Be a Member, Be here.
Become a Member to enjoy ticket discounts, presale access, Member-Only events & more!
Murphy Arts District (MAD) is excited to announce that it has entered into a unique partnership with Crystal Bridges Museum of American Art, Bentonville, Arkansas, to present an exhibition in the First Financial Music Hall, opening on February 1, 2020. The exhibition, called AstroZone: An Interactive Art Experience, will run through Saturday, April 4th, 2020. It will be the first art exhibition at MAD in what is hoped to be a continuing relationship with Crystal Bridges with stronger collaborations in the future. This represents the first time Crystal Bridges has curated an off-site exhibition with a partner organization.
The exhibition will fill the First Financial Music Hall and will present the Chicago-based artist Claire Helen Ashley's immense inflatable pieces in different shapes and colors suspended from the ceiling as well as floor level experiences. Allison Glenn, Crystal Bridges Associate Curator, Contemporary Art, explains "AstroZone is an immersive art experience that will connect viewers to each other through Claire Helen Ashley's inflatable sculptures, similar to the way her playful works engaged visitors in the Color Field exhibition at Crystal Bridges this past summer. I'm excited to see how the site-specific work activates this new space and sparks conversations about art, sound, and science."
Claire Helen Ashley will hold a special presentation on the exhibition in the First Financial Music Hall on Tuesday, October 22nd, at 7:00 PM. This is free and open to the public. The artist will provide background on the exhibition, her creative process, and what visitors can expect to experience.
There will be a special live performance on the exhibition's opening night. Raven Cook, Crystal Bridge's Community Liaison, is recruiting for 16 paid participants. No experience is required. Please contact her at raven.cook@crystalbridges.org for more information and to sign up.
Educational programming plays an essential role in the exhibition and integrates with the Arkansas Curriculum Frameworks in an innovative way, appealing to all learning styles. The programming is being developed by Gay Bechtelheimer, former El Dorado Public School Educator of the Year (2014) and appointed by the Governor to the Arkansas Arts Council. The educational programming will relate to current academic vocabularies and will address literacy in the arts, science, music, and math.
This site-specific, immersive installation of painted inflatable sculptures complemented with audio and lighting experiences draws upon the artists' futuristic visions of extra-terrestrial life forms and alien landscapes. The artist's expansive imagination is influenced by a myriad of sources that helped shape this exhibition including: bio-luminescent organisms, Aurora Borealis, 3D printed Martian habitats, cocoons, asteroids, Sci-Fi, invertebrates, jellyfish blooms, Star Trek episodes, astrological charts, weather balloons, Kraftwerk's "The Robots", psychotropic drugs, disco, Laser Tag, tropical foliage, Saturday Night Fever, Bee Gees' "Night Fever", beach balls, astronomy, self-help books, rock climbing holds, dinosaur egg fossils, space suits, the primordial ooze, and the story of the Garden of Eden. In addition, two choreographed performances will take place in conjunction with the exhibition. Viewers are invited to come, sit, relax, and experience life in the AstroZone.
The artist has visited El Dorado several times to develop her sense of place and will be holding a workshop for advanced placement students at El Dorado High School on October 23rd. In describing the exhibition, she offers the following: "I seek out moments where body-scape (human, animal and alien) and landscape (land, sea and outer-space) meet in my work. For "AstroZone," I encourage a sense of wonder and curiosity of the other, welcoming people into an uncanny, oddball world that is both extra-terrestrial and utterly kitsch. I want people to recall the experience of looking up at natural phenomenon in the night sky, or deep down in the ocean, but that they also sense something else in the experience."
Crystal Bridges has looked for statewide synergies to support its mission of providing access to art and to help make Arkansas a great place to live and play. "It's a natural fit for Crystal Bridges and Murphy Arts District to work together, as we each are focused on offering our communities access to the arts," said Rod Bigelow, Executive Director and Chief Diversity & Inclusion Officer of Crystal Bridges Museum of American Art. "Through conversations with their team, we felt Crystal Bridges' expertise in visual arts could complement Murphy Arts District's expertise in performing arts, broadening the range of arts experiences available in our state and throughout our region."
MAD and Crystal Bridges have been discussing a collaborative partnership for some time, said Terry Stewart, MAD's CEO. "Even before the opening of MAD, we've all had a collective vision of diversifying our programmatic offerings beyond the performing arts and our culinary experiences. Early conversations with Crystal Bridges focusing on our intent to develop a major visual arts center integral to our campus gave rise to creative ways to collaboration. This partnership is now a reality and is manifested in the cutting edge "Astro World" exhibition curated for us by one of the premier museums in the world, Crystal Bridges Museum of American Art.....and we could not be more excited and appreciative."
About the Venue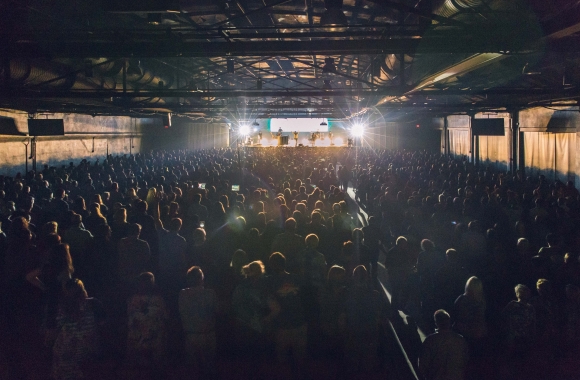 First Financial Music Hall
101 East Locust Street El Dorado , Arkansas
| 870-444-3007
The First Financial Music Hall hosts a variety of performances throughout the year. With the support of First Financial Bank, Murphy Arts District has offered stage performances of Shakespeare, Shanghai Acrobats, and Second City, as well as dozens of concerts including Steve Earle, the Beach Boys, Ludacris, Casting Crowns, Train, and more. With room for up to 2,500 people we can also host weddings, banquets, and more. It is a tobacco free facility.  Learn More