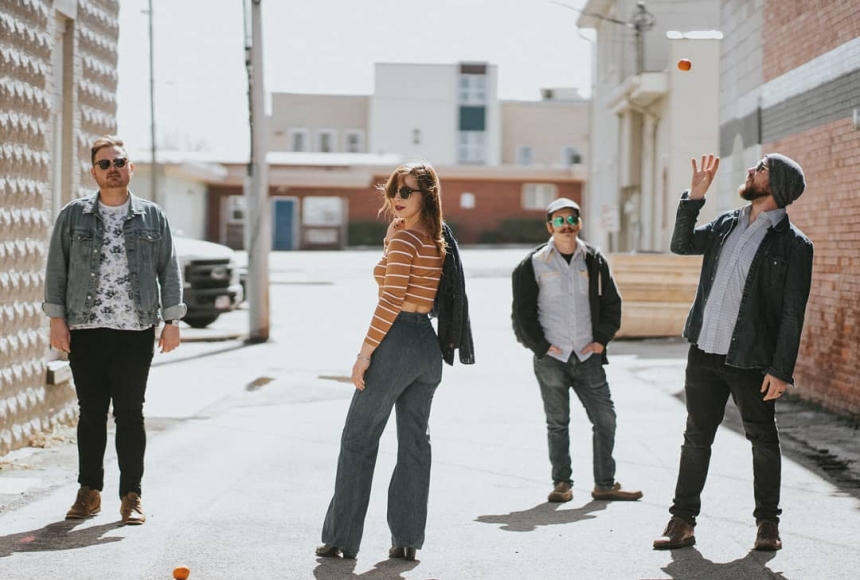 Be a Member, Be here.
Become a Member to enjoy ticket discounts, presale access, Member-Only events & more!
$5 Cover. 
"There's a sound forming in the River Valley. It's a smooth bluesy rhythm infused with folk and old country lyrics. And it slides along the raspy edge of power rock distortion. It's the new sound of genuine Arkansas music, and leading the way in this Southern sonic revolution is Jamie Lou and The Hullabaloo" -ABOUT the river valley magazine

Founded by Florida native Jamie Lou Connolly, Arkansas' Jamie Lou and The Hullaballoo​ have been called a modern Fleetwood Mac and equated to a female-fronted Wilco. Driven by the "dreamy voice" (Arkansas Times​) and seasoned poetry of Connolly, and bolstered by the impressive collective talent that is The Hullaballoo, the Femi-Socialite​ EP marks Jamie Lou's most beautiful, gritty, diverse, and self-assured collection of songs to date.

Connolly began writing and sharing her songs with family at the age of 15 in Florida. But just three years later, the songs and most everything took a back seat to survival, as tragedy left her homeless in a cold and snowy Colorado. By 2010 she'd rebounded and relocated to Russellville, Ark., and began playing live in the local open mic and songwriter scene. An increase in quality shows soon followed, which led to tours through the Midwest and South, and by the summer of 2014 her first album—Girl With A Gun​ (Infrared Records)—was released.

Prior to forming The Hullaballoo, Jamie Lou performed solo, as one half of a folk duo, and as frontwoman for a number of full bands. But this most recent incarnation has been the steadiest, loaded with veteran musicians, songwriters, and vocalists, including Garrett Brolund, Guitar; Tim Pelton, Bass; Tori Snead, keys; and Matt White, drums. And unlike 2014's Girl With A Gun​, whose production and instrumentation were controlled by the label and its house jazz trio, Femi-Socialite​ feels more organic, like it was made by a band whose members have been crammed together amongst equipment in a van, experienced the ups and downs of live performances, and honed their sound on stage. As Connolly notes, "Making this record was like finally learning how recording a band actually works."

In arranging Femi-Socialite​, Connolly wasn't concerned with weaving a common theme: "Most of the time I just take it as it comes and say thank you." But time and again throughout the album Jamie Lou and The Hullaballoo invite the listener to ask, Who am I?—Who am I as a lover, a friend, an individual? "Lyrically I write to release," she says. "It's not something I choose to do. It just has to happen in order for me to mentally survive."

Musically the album takes no prisoners. Opening track "When Someday," marries a dark groove between drums and finger-picked acoustic guitar to vocals filled with the sorrow of an Appalachian murder ballad and a guitar solo right at home on Dark Side of the Moon​. "You Can't" draws heavily from Southern soul, while "It Is What It Is" and "Don't Think" evoke an early '90s college radio vibe. "I go through genre phases," Connolly admits, and attributes this to growing up with musical parents. "Sometimes I'll be listening to Michael Franks and [write] a bunch of jazz rock songs. Or I'll be listening to the Byrds and start to write more Americana." For example, the banjo-laced "Runnin' on this Heart" and title track, "Femi-Socialite," were both written during a country phase. "As a band, we have actually had a lot of fun playing [these two]," she adds. Like track two, this collection of songs is what it is: genre-spanning, "dreamy," soulful, gritty. It's the reaping of seeds planted and nurtured collectively on-stage, a cohesive vison made audibly manifest.
About the Venue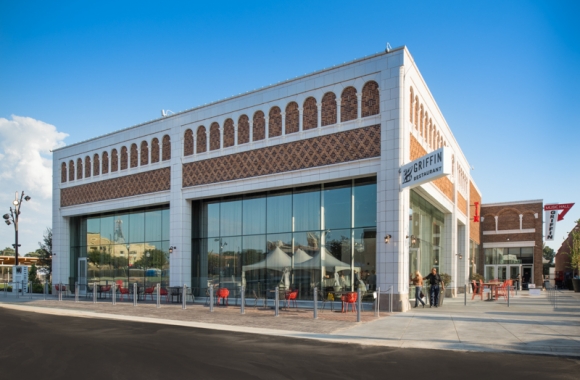 101 East Locust Street El Dorado , Arkansas
| 870-444-3008
Exuding an air of industrial chic, the Griffin Restaurant will make you MAD happy with crazy good farm-to-table food and service as well as live entertainment every Thursday on our cabaret stage.  We have gift cards! Call 870-444-3008! Lunch: Monday - Friday, 11AM - 2PM Dinner: Monday - Saturday, 5PM - 9PM Brunch: Sunday: 10-2 Learn More