MAD on Ice waivers only have to be completed ONCE per skater for the season. Skaters 18 years and older may sign the waiver form for themselves. 17 years and younger MUST have a parent or legal guardian fill out a waiver form for them. All skaters and spectators must sign a waiver.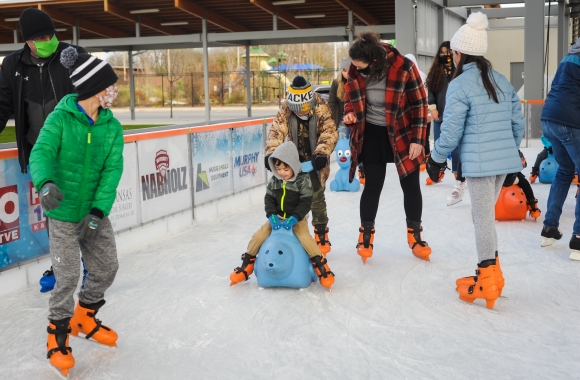 All Day Skate (continuous skate session/no leaving & coming back) - $14 per person (tax included)
Ice Skate Rental - $3 (tax included)
Season Pass for one - $85 (tax included). Includes unlimited skate & skates
Season Pass for TWO - $145 (tax included). Includes unlimited skate & skates
Skating Accessories - Bobby the Seal/Tommy the Reindeer - $5 (tax included)
Things to Know -
18 + may sign their own waiver
17 and under must have a parent or legal guardian sign their waiver (may be done online)
Every skater must have a waiver filled out, even spectators on stage
Helmets are available on a first come, first serve basis
Punch cards are available - Every 10th visit will receive a free skate session (skate rental not included)
Platinum & Gold Members can get FREE skates all season long. Must show member card. 
Restrooms are available inside
Shoe sizes are available in a Children's 8T - Men's 15
All skaters must wear socks
Information on children's skate sizes! 
In order to skate or to use Bobby or Tommy you must be wearing skates. Regular shoes or sock footed individuals are not allowed on the ice. We have a shoe size chart that will be used to measure the size of a child's socked foot in order to issue the appropriate skate size. 
The smallest skate size we offer is a children's 8T. This skate is APPROXIMATELY a regular child's shoe size 10T. If a child's foot is too small for the shoe size chart they will not be issued skates and cannot get on this ice. This rule is for the safety of the child and other skaters. 
Thank you for your understanding and cooperation!
Thank you to our sponsors!