Back to MAD News
Toast the town: El Dorado has wine experts, big name chefs, food, music lined up for Southern Food & Wine Festival
04/29/2018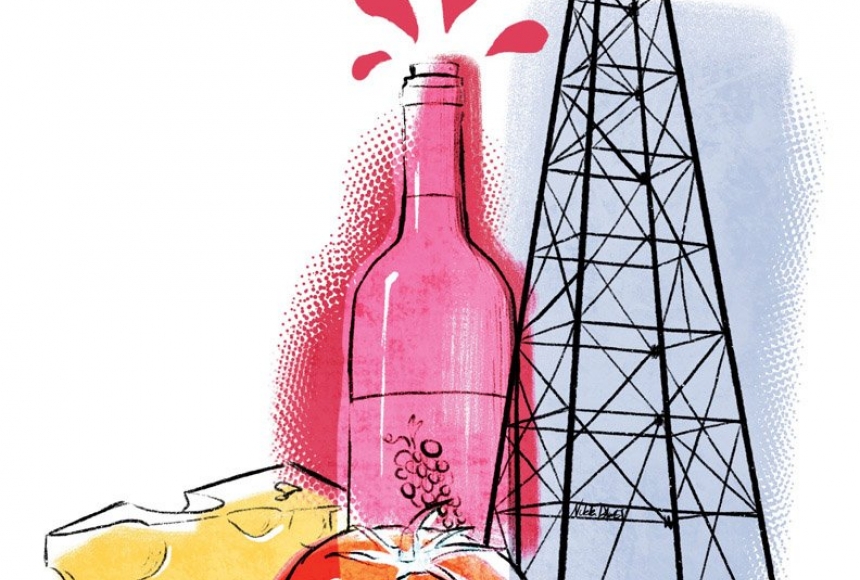 The Sept. 27 opening of the Murphy Arts District downtown heightened El Dorado's entertainment and dining profile. So the festival, which had been a fairly low-key local event, set its sights on a higher-profile presence.
This year's Southern Food & Wine Festival opens in grand style with a five-course dinner at 7 p.m. Friday in Griffin Music Hall in the Murphy Arts District. It features chefs from Paris, San Francisco and El Dorado and wine experts from New York and California. The event continues 3-6 p.m. Saturday with a multiwinery Wine Pour with three musical acts performing at the arts district's amphitheater and an 8 p.m. concert by Jason Isbell & the 400 Unit and Richard Thompson at Griffin Music Hall.
"The biggest difference, other than the high-caliber chefs and wine experts, is we now have the facilities for a major food and wine festival," says Austin Barrow, president and chief operating officer of the Murphy Arts District. "Previously, we've leased spaces around town, blocked off a street and had to use spaces not ideal for cooking."
Barrow credits the event's "lightning bolt," sommelier Eric Railsback of San Francisco, for the festival's major leap forward. Railsback, who set up the wine list for Griffin Restaurant in El Dorado, offered to help select the chefs and sommeliers for the festival. 
The former wine director of the Mina Group, Railsback assists Presqu'ile Winery, which is owned by El Dorado's Madison Murphy.
"I looked around at what other wine festivals were doing," Barrow says. "People tend to name their event based on location. Our initial intent was to focus on Southern foods and wines. For now, we've emphasized winery owners who live in the South, but produce wines elsewhere. We hope to bring in more wines from the region."
While the menu for Friday's dinner had not been finalized at press time, Saturday's Wine Pour will have five food trucks offering an assortment of Southern-themed dishes, Barrow says.
John Peters III, executive chef of the Murphy Arts District and the farm-to-table Griffin Restaurant, is the festival's "Southern anchor," Barrow says.
"We will be feeding 170-plus people at this dinner; there are a lot of logistics with the other chefs doing different dishes," Peters says. "Serving five courses for that many people in a professional manner is challenging, but we're looking forward to it."
Peters, a Louisiana native, trained in New Orleans at Commander's Palace and at Bacco. "I have a lot of experience in Creole cuisine," he says. He was saute chef at Commander's Palace in 1996 when the restaurant won a James Beard Award.
Barrow believes the festival has potential to grow even more.
"We've talked about expanding to a third or even a fourth day in the future. One idea we have is to add a variety of Southern cuisine dinners with wine throughout the week in El Dorado.
"There is a resurgence in respect for Southern style, traditions, stories and foods," Barrow says. "You can find traditional Southern fare in Los Angeles and New York and barbecue is everywhere."
THE PARTICIPANTS
Chefs collaborating on Friday's dinner are Peter; Chris D'Andrea, executive sous chef of Eight Tables Restaurant in San Francisco and former sous chef of Saison, a three Michelin Star restaurant also in San Francisco; and Austin Johnson, chef de cuisine at Frenchie Restaurant in Paris.
Along with Railsback, the wine experts include master sommelier Dustin Wilson of New York City, owner of the Verve Wine shop and former wine director of three-Michelin star restaurant Eleven Madison Park; sommelier Robert Bohr of The Delicious Hospitality Group, which operates three restaurants in New York City, and sommelier Thomas Pastuszak, wine director of The NoMad restaurant in New York City.
"I expect to see a lot of attention to detail," Barrow says of the participants. "I am excited to see what the chefs come up with, maybe an exciting fusion with Southern food, too."
It promises to be a busy and entertaining weekend in downtown El Dorado. Two other events take place downtown on Saturday: the Murphy Arts District's Farmers Market at 8 a.m. and the annual Mayhaw Festival, which starts at 8 a.m. with two runs and includes bluegrass and folk music acts, a vintage market, car and bike show and more. It concludes just before the Food & Wine Festival's Wine Pour begins at 3 p.m.
THE WINE MASTER
Wilson, a master sommelier since 2011, says Southern foods, depending on where you are, have a variety of influences. The foods usually "are heavier, have richer and bold flavors. That makes choosing wine an interesting challenge ... sometimes you want bigger, bolder reds depending on the dish, or a fresh, bright crisp white."
What is the difference between a sommelier and a master sommelier?
"A sommelier is a position in a restaurant; traditionally the person who brings attention to the wine list and helps guests make their decisions," he says. "You have to have a working knowledge of wine and know how to be of service.
"A master sommelier is certified by the Court of Master Sommeliers, an examining body run by other masters. You take a series of tests over several years and when you pass, you are certified. You have to take it numerous times before you can pass. It took me five years; some take longer, some less."
The 2012 documentary Somm gives insight to the process of becoming a master sommelier. Wilson is featured in the film.
Wilson's interest in wine developed in his early 20s when he worked as a waiter.
"I got interested in wine and was fascinated. I was working at Frasca Food & Wine in Boulder, Colo., where a master sommelier named Bobby Stuckey was my first mentor."
Wilson's interest in wine didn't come from his family.
"My mom used to drink box wines that were kept in the refrigerator."
He offers a couple of suggestions for those just learning about wine.
"Wine can be intimidating. A good foundational reference book is Wine Folly; it's easy to understand and very approachable." Wine Folly: The Essential Guide to Wine is by Madeline Puckette and Justin Hammack (Avery, $25). Wilson also recommends The World Atlas of Wine by Hugh Johnson and Jancis Robinson (Mitchell Beazley, $60).
So what does Wilson look for in a glass of wine?
"It should tell a story. A well-made wine should tell you when it was made and where; it's a time capsule in a glass."
And speaking of glass, what does Wilson use?
"I have one glass I use for everything, including Champagne," he says. "Zalto, an Austrian glass company, has a universal glass that is my go-to glass for everything." The price? Around $60 each.
This will be Wilson's first visit to Arkansas.
"My mind is completely open, I'm excited to get there; I can't wait to see El Dorado."
Full article HERE